Growing Your Business in 2022 Through Digital Innovation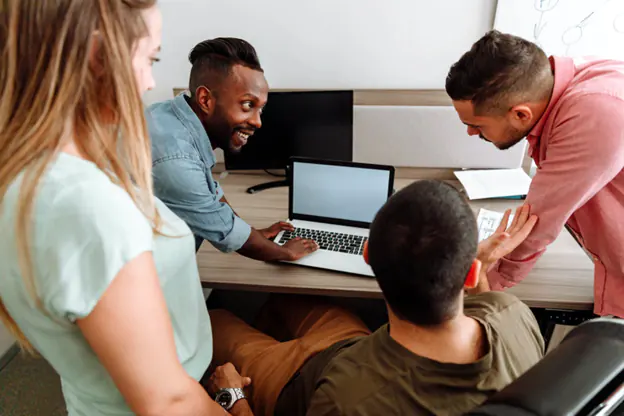 Experiencing growing pains in your business? w3 can help during these exciting and pivotal times! A common issue we hear about from our clients as they continue to grow is that they feel like they are constantly putting fires out and acting reactively towards their business instead of proactively. If you find yourself constantly working in your business instead of working on your business, then the Nerds at w3 are here to help! We utilize a variety of modern digital solutions to service our clients which may be beneficial to you and help your business as it grows. This can be accomplished in three steps. First, leverage big-data analytics' market analysis to help understand what your customers are looking for. Second, utilize software automation to help maintain a skeleton staff - especially during the current staffing crisis many small businesses are experiencing. And lastly, integrate your software services with a website provider who can launch a successful SEO campaign to help your business continue to grow. Let's dive in.
Planning Your Moves With Big-Data Analytics
Plotting your company's innovation areas should not be done without first conducting research. Big-data analytics is the process through which comprehensive market data is analyzed to identify trends within a given industry. Using the results drawn from this data, you can make more educated decisions regarding what course your company takes in certain circumstances while having an idea of the likely outcomes for each action. Consider consulting such market research when deciding if the following digital solutions would benefit your business.
Utilizing Business Process Management
Any business owner knows that efficiency is the key to success. By streamlining processes and eliminating wasted time and resources, you can create a leaner, more profitable operation. Business process management (BPM) is a systematic approach to improving those processes, and it can have a profound impact on your bottom line.
By definition, BPM is the proactive management of process improvements, with the goal of making the organization more agile, efficient, and effective. In practice, this means identifying inefficiencies and bottlenecks, designing smarter processes to replace them, and continuously monitoring performance to ensure that the gains are sustained. When implemented correctly, BPM can help you achieve impressive results in terms of cost savings, increased productivity, and improved customer satisfaction. Get a refresher on business process management to learn more about its implementation.
The Nerds at w3 are not just web designers, we are software developers! We have a long list of clients who are utilizing our cloud-based software platform to help manage and automate tasks related to their core business. The clients include small medical practices, community groups, non-profit organizations, small businesses, and larger financial firms. If you think your business could benefit from further automation to help reduce your time spent on redundant tasks, reach out to a nerd for a software consultation.
Connecting With the Cloud
An online presence is practically mandatory if your company has multiple locations, a large area of operation, or multiple employees who are disconnected geographically. Decentralizing your digital workspace on cloud-based services will facilitate remote work, allowing you to consider talent from outside your usual area of operation, provided the job does not require their physical presence. Video conferencing and other voice-over IP systems allow workers to communicate and collaborate with other sites far more efficiently than through phone or email. Our cloud-based software can help you keep your business online and you in charge whether you are at home, visiting a client, or away on vacation. Get in touch with a nerd today to see if our software is a good fit for your business.
To keep financial matters accurate, current and accessible, consider adopting a cloud-based accounting software. This allows you to bill customers and track expenses from nearly any device with an internet connection. Having all monetary information up-to-date and in one place will help you get your best return at tax time, not to mention allowing you to catch any questionable transactions or non-compliant behavior. This is such a convenient and effective process that nearly all professional accountants have switched to cloud services.
Reaching Your Target Audience
As your organization grows, so too should your customer base. Advertising online will reach a wider audience than local print ads or word of mouth. It can even target certain demographics based on their search and shopping histories. To really grab attention, consider creating a new logo or refining an existing one. The brand recognition of a memorable logo will differentiate you from your competitors.
You can also use your web presence to help potential customers learn more about you. Blogs, profile videos, and select customer reviews can all be used to present your clientele with a curated first impression. If applicable to your company, establishing an online store or expanding where your services are provided will give you access to more customers and vice versa. To build an attractive and responsive website, partner with the web design pros at w3Nerds!
When a company is finally established, it can be confusing to determine what comes next. Digital innovation like big-data analysis, business process management, and cloud-based software can streamline your business' existing services while making them available to a much broader clientele. Contact a nerd for a free consultation and see if our cloud-based software or SEO website services can help you grow your business.
---