How to Write Content for a Meaningful About Page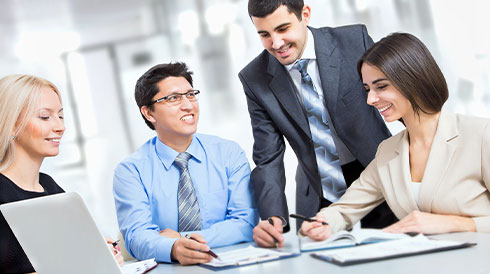 Why does my 'About' page content matter?
An 'About' page with the appropriate content is a vital piece of your website that should answer key questions your visitors have during their decision making process to buy your product or service. This is the perfect opportunity for you to explain what sets you apart from your competition! This article dives deeper into how to write a comprehensive "about page" by answering the questions your visitors have about you and your company.
10 Pro-Tips for Composing your About Page
Talk about your history and be able to support what you say. Don't just use marketing verbiage to fluff up your page.
Research shows that visitors often visit an 'About' page because they are curious about your company's values and what separates you from your competition. Use this as an opportunity to build and establish trust in your products, services, visions, etc. and bring to light ways you offer quality, professional services.
Read your About page from the perspective of a potential client/customer and ask yourself if this convinces you to buy your product or service.
Always support your marketing statements with details. Ex. When claiming to be the best, explain why you're the best!
We understand not wanting to give away your secret sauce, but if able, tell them about what you do behind closed doors to offer premium services.
Remember your goal is to build and establish a connection with the visitor. If it fits, use the first and second person (i.e. "my" web services are going to be amazing for "your" website to help "you" get more customers) to speak directly to your visitors.
Show your visitors your core values. This can be done through talking about how you give discounts to non-profits, veterans, or first-responders, or can be expressed through your company's mission statement.
Brag with proof. If you have any awards, certifications, degrees, or credentials to share with your visitors - do it. Seeing a local award will help establish trust in your brand and business.
Include a photo of yourself and/or your team! This can be a formal headshot or a picture of you or your team "in-action" at a job site. Depending on your industry, find something tasteful that will help give visitors an idea of who you are and what kind of work you do.
Peek their interests! For example, the world of websites is fascinating and ever-evolving. We are on the cutting edge of website development constantly implementing new and exciting improvements to all of our websites to give our clients a leg up on the competition. We accomplish this through our custom platform that provides our clients with exceptional web services that a lot of our competitors simply can't compete with because we have spent the last ten (10) years developing it. What is your unique product or service and how can you best show your passion for it on your website's "about" page?
Thought-Provoking About Page Questions to Help Combat Writer's Block
Consider answering some of the questions below when writing your about page. Remember to keep in mind who your audience is, what products or services you want to push on your website, establishing trust, and your goal to convert visitors into paying customers.
What are your core values?
What is your mission statement?
When were you founded?
How many years of experience do you have?
Are you family-owned and operated?
Is your company a major corporation?
Why did you get into this business?
What makes you stand out over your competition?
You can talk about your services if you wish.
Where is your business located/based?
How has your business grown or evolved over the last few years?
Why should customers buy your service/product over your competitors?
Websites to Consider Emulating for your About Page
The below websites and corresponding quotes are from some of our web clients who have about pages with nicely-written content.
---