Website Design in West Chester, PA
The nerds at w3 aim to please with professional website designs that will help your business grow, help your non-profit have an online web presence, or help your startup become a successful business. From content creation to mobile responsiveness, we do it all. And best of all, we design affordable websites for businesses of all shapes and sizes in West Chester, PA.

Let's dive in.
What is web design?
When you visit a website, web design determines how it looks and feels. It's the process of planning and constructing the various parts of your website, such as the structure and layout, as well as the photos, colors, fonts, and graphics. The nerds at w3 help your website have a custom look and feel while still doing all of the fancy SEO work so your website can rank locally.

Web design is comprised of various components that work together to create the final experience of a website. These components are graphic design, user experience design, interface design, content production, and search engine optimization (SEO). These components influence how a website appears, feels, and functions across a variety of devices.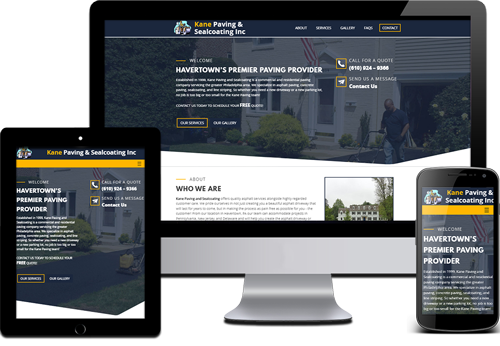 How can proper web design benefit your West Chester, PA business?
Regardless of industry, a company's internet presence can have a significant impact on its performance. Some businesses still don't recognize that the bulk of their new clients or customers will check their website before deciding to purchase their products or services. A strong online presence, particularly a website, can make or break your ability to generate additional revenue. We have assisted a number of businesses as well as non-profits of various sizes in developing their online presence to bring in numerous leads.

Having a properly designed website with good SEO practices helps your business in numerous ways - listed below:
Credibility
One of the main reasons you should have a website is to increase the credibility of your business. There are probably many other organizations that provide the same services as you and having a professional website makes you stand out from the crowd.
Brand
Having a clear brand identity allows you to show prospective customers who you are and what you stand for. This increases the chances that visitors will eventually become customers. That is why we incorporate your brand into the custom web design we create for our clients' businesses.
Leads
Arguably the most important aspect of having an online presence is that it increases your chances of getting leads. Once people find your business online and become interested in what you have to offer, they can contact you about your services.
Traffic
Once your website is online and SEO-optimized, you'll start showing up in Google searches. This alone allows you to increase your customer base and lucky for you, you found one of the top web development companies that also specializes in local SEO.
Why doesn't every business take advantage of proper web design?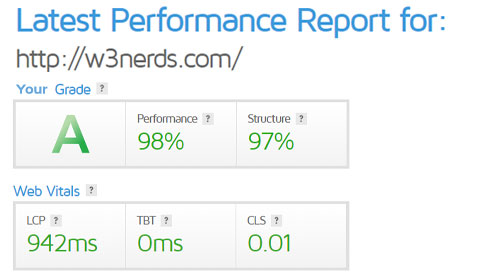 Some businesses hesitate to have a website because they don't believe it will be affordable, don't consider themselves "tech-savvy", or fear they won't be able to maintain their online presence. But have no fear, the nerds at w3 are an affordable web agency in West Chester, PA that handles all the technical aspects of your website, and (through proper SEO) are able to greatly improve your website's online presence.

We provide artistic designs alongside skillful developers to create a responsive website that can only improve your business! Good grades (like in the provided image) for important developmental and technical features of our websites allow our sites to outperform our competitors' websites (thus allowing you to outperform your competition!). If you are still using content management systems(CMSs) like WordPress, Wix, Weebly, SquareSpace, and more, then having a professionally designed website will become quickly apparent when comparing your current site to your site. And more importantly, your customers will appreciate your newly designed website.
Our Web Design Projects
Get Started
Time Required to Research, Implement, Test, Analyze, and Improve
The nerds at w3 spend ample amounts of time researching and compiling data on modern web design practices, your business' brand, the products and services you provide, and always take into account your competitors (both locally and nationally). This preliminary research ensures that your website will be modern within your business' industry vertical. This vital research also allows us to create a website that not only grows your business and resonates with your audience and customers but can be managed and maintained by our team for years to come.
Web Design is both an Art and a Science
Professional website design combines the science of development as well as your inner artist to create a website that embodies your vision and is superior to your competitors' websites. The "science" behind web design is found in the development of your website that is based on mass studies, market trends, micro-studies, and constant refinement. Our constant research, development, and analysis provides our clients with a leg-up on the competition because we are at the forefront of website design and follow the latest and greatest SEO practices. The "art" fills in a conversion-based layout with your brand and visions unique color scheme, fonts, styles, and imagery to present your website in a meaningful way that establishes trust, reinforces your brand, and promotes visitors to convert to paying customers.
Skilled Custom Web Developer
Custom website development is the bedrock foundation that allows us to launch superior websites compared to other generic website designs/agencies that use standardized content management systems to throw together a website. Our website development team is based in West Chester, PA, and specializes in getting to know you - the client, your vision for the site, your goals for your business, and creating a site that combines them all to build a successful marketing strategy to help grow your business. We understand and appreciate that your business is unique and you do offer something that your competition does not. We also bring to the table our unique expertise as custom developers to create custom websites that repeatedly outperform our competitors' use of CMSs like WordPress, Weebly, and more. This gives your website a huge advantage over your competitors who use a standardized software or a lesser qualified team. Ultimately, this allows our clients to rank for their desired keywords on major search engines like Google, Bing, Yahoo, etc.
How do the nerds at w3 get their clients to rank on page 1 using SEO and web design?
SEO is essential to driving traffic to your website. Here at w3 Nerds (w3 Global Solutions), we truly know SEO inside and out (or if you will allow us to nerd out for a second, we know SEO from backend to frontend)! Our main goal is to have your website appear on page 1 of major search engines like Google through proven SEO techniques.
Local SEO Pros
Ask an Expert
Request a Free Website Analysis
Affordable (or free!) ways to improve your web design
If you have access to your website's current content management system (like WordPress, Wix, Weebly, SquareSpace, etc.) then there are some easy practices you could implement to help your web design. Below are some simple suggestions to get you started.
Incorporate buttons strategically positioned and designed to grab the attention of your website visitors
Increase visitor engagement by having some buttons link to other relevant pages
Incorporate the colors of your logo into various elements of your website to further enforce your business' brand
Include links for customers to get in touch with you via phone or email so they can use their desired means of contacting you.
A proper web design agency should include the above list, but you can always reach out to your current providerand ask them to implement more of the above practices. We also offer free consultations and can make recommendations as to additional ways to improve your current website. Unique issues we find include headers that are too large, words found on images, and more technical issues that hurt your website's design and also hurt your website's overall conversion rate. Fill out our "request a free website analysis" form to get started and see ways your website could be improved - at no charge to you!
Why use the nerds at w3 for custom web design in West Chester, PA?
Affordable Web Design Pricing in West Chester, PA
Our firm is a Google-friendly web design agency in West Chester, PA with a devoted team of website creators who produce beautiful, professional websites that convert website visitors into customers We offer affordable website design packages for small businesses, startups, and especially non-profits that positively impact their community. We also offer special financing options for small businesses that are struggling financially due to unexpected financial difficulties, staffing issues, COVID-19 related stressors, and more. We urge you to inquire about what we can do to help your business bounce back.

It is true that we do have high-paying SEO clients that request a lot of SEO work from our team and help keep us busy providing search engine optimization (SEO) content, search engine marketing (SEM), and more higher-paying services. But, we also offer middle-of-the-road service packages that allow our clients to do more leg work while we focus on the technical web stuff - often at no additional cost to our clients!

At the end of the day, we are an all-in-one website provider. We have the expertise to create stunning, professional websites for corporations, small businesses, and non-profit groups at an affordable cost. Because we are a small business, we understand how crucial it is to have a constant flow of new clients. So let's work together and create a mutually beneficial relationship where we help you get more customers in the door and custom create a web payment plan that you can adhere to. We also provide each of our clients the individual attention they need alongside high-quality customer service. Our lead account manager Nick is available via text, phone call, and email. Nick is notorious for quickly responding to customer inquiries including client questions same day, over weekends, and even on major holidays. The summation of these qualities are what distinguishes our web design agency from the majority of West Chester, PA's "high-end" web design companies.
Exceptional Web Design Process
In order to achieve optimal results, the nerds at w3 utilize an exceptional and ever-evolving web design process with each client. Every project is unique, but our methods are tried and true. First, we identify your goals, determine the scope of your project, and analyze your current online presence. Then we start our preliminary research within your business' vertical to see who your competitors are, what they are doing right, and what they are doing wrong (thus giving you room to take advantage of easy marketing gaps…. We often call this taking advantage of "low hanging fruit"). Then we start the design of your website which includes content collection and content creation. Once we have all the pieces, we move forward with laying an outline or framework for your website, incorporating both your content and the vision for your new website. Your website will go through rigorous testing before it is launched - we are not kidding! We utilize a 300+ point inspection on each of our sites to ensure each site is of the highest-quality and worthy of our mark as a website "designed and maintained by the Nerds at w3." We want to make sure that you always have a responsive website that is up to date. And to that end, we also want to create long-lasting relationships with our clients by maintaining your site for no additional cost for weeks, months, and years to come!
Web Design Process
Superior Local SEO to get you more leads
No matter how great your website design is, it must incorporate proper SEO techniques in order to drive traffic and attract consumers. Most consumers are likely to choose the top few websites that appear in a search and most people do not go past page 1. This is where working with the nerds at w3 will greatly benefit your business! We have been helping our clients rank on page 1 of Google for local SEO since 2011.
Local SEO
High-Quality Customer Service
Our team provides its customers with stellar customer service on multiple different levels. We are responsive to emails, texts, and phone calls. We also do more than just initially design and develop your website; we also continuously maintain them as well. We always make sure that your website is up to date with the latest and greatest security updates, scripts files, content, SEO strategies, and more based on your web package. You can feel comfortable knowing that you are investing in a team that reinvests into your website, has proven results, and does everything we can to have happy customers.
5-Star Rating on Google for Web Design and SEO
We are proud to boast that all of our 60+ Google reviews are all 5-Star reviews! Go check them out for yourself to see what others have to say about our web design company. Customers rave about our services, professionalism, creativity, and passion for the work that we do. If you are an existing customer, please feel free to write us a review by clicking here!
Client Retention and Web Design References
Our professional web design services, client communication, and high-quality services have allowed us to maintain about 98% of our clients since we first opened our doors in 2011!
Next step for a better web design experience in West Chester, PA
Now that you can see what w3 Nerds has to offer, please give us a call to discuss your web design project. We offer a superior web design experience and do so at a value-driven price. So give us an opportunity to examine your needs in an in-person or remote meeting and let us help grow your business! So don't delay, reach out to a nerd today! We look forward to working together.
Get A Free Quote