Fire Police Reporting Software
Contact the Nerds at w3 for fire police reporting software for your department or organization. Our reporting package empowers fire police to keep accurate records of their incidents including tasks performed, responders, incident pictures, vehicles, and more.

This software allows your fire police personnel to easily create reports after incidents including who responded, what they did, and how long they did it.

Let's dive in.
What is w3CRM's Fire Police Reporting Software?
Our fire police reporting software empowers fire police officers to quickly and easily create fire police reports after incidents. This vital record-keeping platform is cloud-based enabling users to access the software from any device (desktop computers, laptops, tablets/iPads, or smartphones) at any time of day. As such, the software allows users to create/edit reports from the station, place of work, or comfort of their own home.

Once logged in, each member can create incident reports, customized to your organization's specific apparatus, tasks, locations, and more. Dispatch integration is also available to get pre-populated data and further decrease report creation time. Our software, overall, has been commended for helping responders save time, energy, and effort when creating incident reports. Line officers, captains, chiefs, and station administrators have also enjoyed the ease of use to view all the additional reporting available with w3CRM. This includes numerous call statistics over time, across all local municipalities that compare tasks performed, officer attendance stats, and much more. Ultimately, empowering your fire police divisions to have useful reporting, accurately displaying how you contribute to your community which can be brought to townships/municipality meetings to request for further funding.
Fire Police Flyer
Benefits of w3CRM's Fire Police Reporting Software
Cloud-Based
The fire police reporting software is hosted on w3CRM - a cloud-based software. In addition to regular backups, w3CRM also includes remote user access so users can access the software from any device with a modern browser and internet connection.
Call Reporting
w3CRM has numerous reports available to organizations. These include key reports for incident year-to-date summaries, certificate expiration tracking, membership analytics, points program reports, incident scratches, and much much more.
Manage Permissions
These are permissions you can turn on or off for each member. So if you want different permission sets for administrators, line officers, captains, general membership, etc. - you can!
Customizations
w3CRM is customizable for organizations across the United States. Each organization can have a unique set of vehicles, members, tasks, required fields, permissions, and more.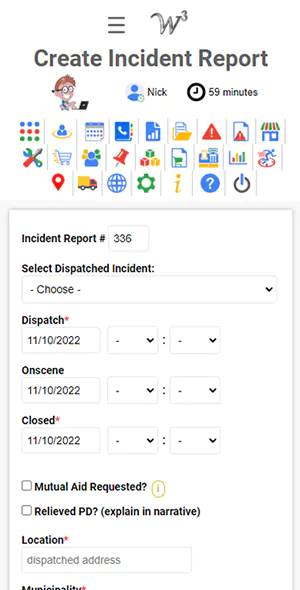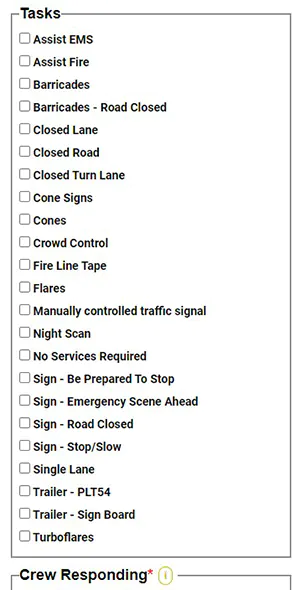 Software Pricing & Cost
Our goal is to provide this software at little to no cost for first responders across the United States. Various counties and county associations have already agreed to subsidize our software to decrease the financial burden on individual fire companies. Please contact a nerd to get a quote (hopefully zero!).
Contact a nerd for pricing.
Get a Quote
Onboarding Process
Our onboarding process was created with you in mind. We have optimized the process to include a simple form for a member to fill out, a one-on-one meeting with a Nerd at w3, and hours of development to create an intuitive software that's easy to use for users of all ages and backgrounds. Each organization will also be assigned a nerd (account manager) to assist with any and all questions you may have about our software.

To get started, click here to answer a quick questionnaire about your organization. You can also use the web form below to have a nerd reach out to you first.
Additional Questions? Contact us!
Want to learn more about whether w3CRM would be a good fit for your organization? Send in the form below and a nerd will get back to you before the end of the next business day. We look forward to empowering you to better serve your community and thank you for all you do!